The Contagion of Creativity
BB2C: The only NGO in Cambodia working on rice planter technology.
We are a small, "can-do," nimble organization which can change direction on a dime if a better idea is found to reach our goals.
The BB2C workshop may suggest it is just a simple work place, but oh, the magic performed by our engineers and country director.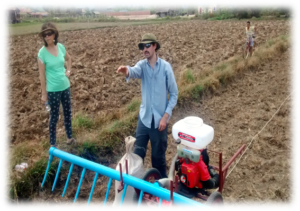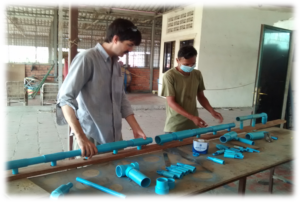 Irrigation Pump
We first imported an irrigation pump, made by KickStart, Inc., which produced and sold pumps for over 20 years in Africa with excellent results. Because of the added costs of shipping and custom clearance, however, the pump was too expensive for the farmers that we hoped to reach, nor did it provide employment for Cambodians.
Respected engineers in international development said we could not design a pump, and if we did, the Cambodians could not manufacture it. Against significant odds, we began to design our own prototype of this sophisticated irrigation tool by a cross-cultural collaboration of Norwegian, Australian, British, Indian, Singaporean and American engineers.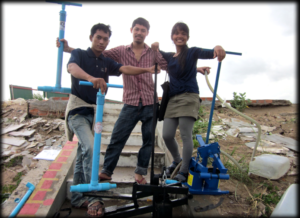 Cambodia shared the founder's son Rudi with us, so now
we give the 
RUDI KHMER PUMP

back to Cambodia