How much of a time commitment is volunteering?
It is preferred that a volunteer can commit to a minimum of three months to contribute meaningfully to our projects. However, there are always small tasks for which we seek help. Should you need a more flexible time requirement, a suitable schedule and project can be pre-arranged.
Hours vary depending on meetings and travel outside of Phnom Penh, but in general office hours are 8 am-5 pm.
Can I volunteer even if I'm not in Cambodia?
Yes! Our global network of passionate volunteers has included Italy, the United States, Canada, Switzerland, Egypt, Vietnam, Austria, and Germany. We ask that remote volunteers contribute 10-20 hours a month. However, we are very respectful of your time constraints and allow flexibility.
Are there any volunteer fees?
We charge no fees to volunteer with us. All we ask is for your sincere dedication to our project during your time here.
Basic housing can be arranged at the office for the first few weeks until you settle into Phnom Penh.
Where is the office located?
The Cambodian office is located in the south of Phnom Penh. You can find the exact location on the Contact us page.
How do I get around Phnom Penh and to the office?
Moto or tuk-tuk is the best mode of transportation but a bicycle is also a convenient means of transport depending on how far you are from the office.
What is the cost of living in Cambodia?
Apartments in Phnom Penh range from $90 – $300 per month (averaging $150 – $250). Local street food is as cheap as $1 but can range up to $6 depending on the restaurant. Drinks vary between $0.50 – 2.5.
What is the best neighborhood to find an apartment?
The office is in the south of the city, so the best neighborhoods to live in are near Russian Market, BKK1 or Tonle Bassac.
Will I travel as part of this position?
There are frequent field research trips to neighboring provinces, longer travel to other parts of Cambodia for product demonstrations, and occasional international travel to deliver products abroad. A team of three recently went to Borneo!
Do I need a visa to enter Cambodia?
Cambodia requires that all foreign visitors receive a visa when entering Cambodia. Fortunately, visas are available for purchase at the Phnom Penh airport and the process is straightforward and quick. Tourist visas cost $30 USD and can only be renewed one time. Business visas cost $35 USD and can be renewed indefinitely. Visas can also be obtained beforehand through the Ministry of Foreign Affairs (www.mfaic.gov.kh).
Will I need health insurance while I'm here?
Although not required, we highly suggest that volunteers purchase travel or volunteer insurance for the duration of their stay.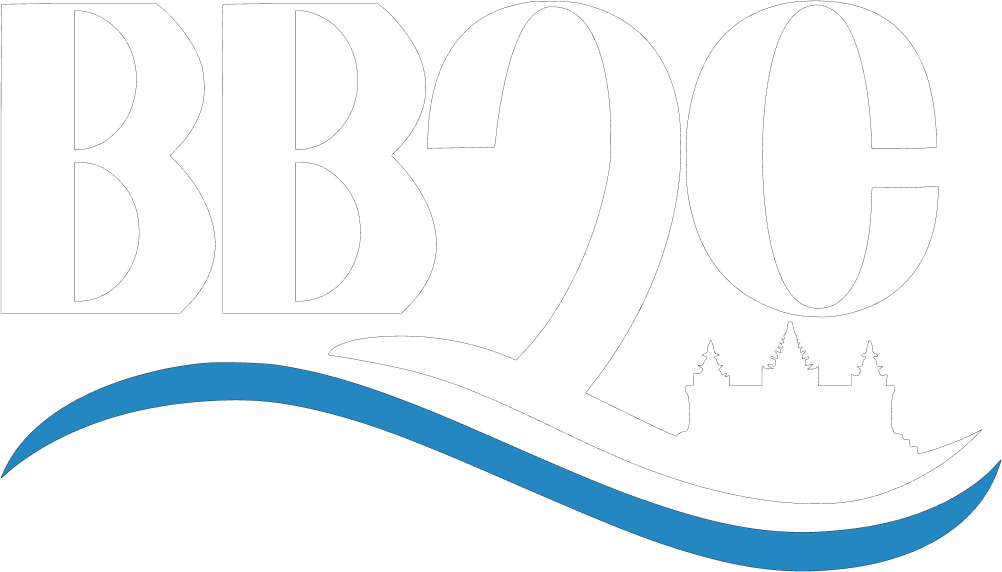 BB2C OPERATES IN CAMBODIA AS
BB2C TECHNOLOGIES CO., LTD