BB2C Awards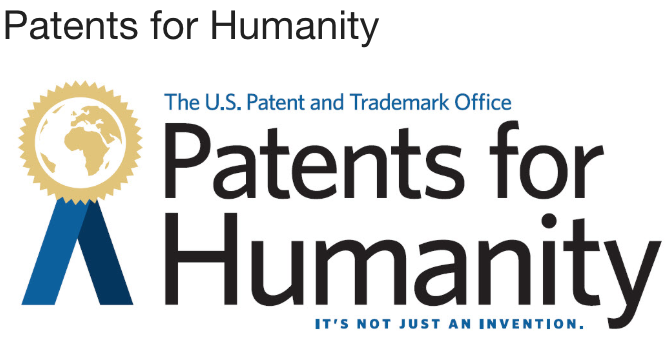 WASHINGTON– The United States Patent and Trademark Office (USPTO) announced  Brooklyn Bridge to Cambodia as the latest winner of the Patents for Humanity award. The Patents for Humanity program was launched to promote game-changing innovations to address long-standing development challenges.
That our small organization was a winner is just exceptional. Past award winners included huge corporations like Microsoft, Sanofi, Novartis, and Procter & Gamble.  As well as major Universities such as Case Western Reserve, and the US Food and Drug Administration.
"Each of these recipients showcases the power of innovation to help the less fortunate around the globe.  By recognizing and honoring these innovators whose creativity and curiosity dared them to solve some of the toughest humanitarian challenges, we hope this program will continue to inspire countless more to follow in their footsteps."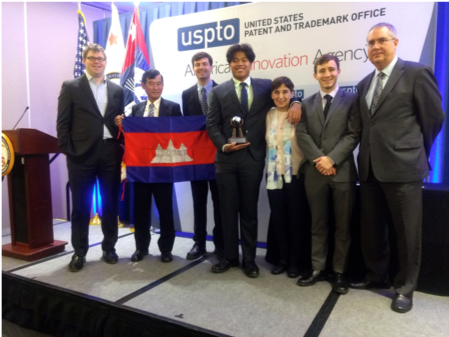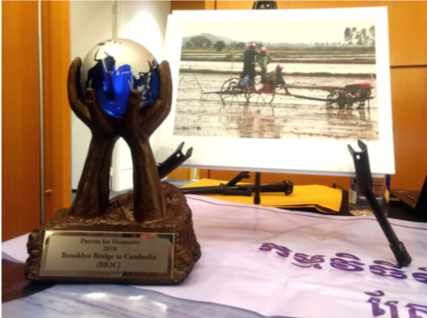 TrustLaw, the pro bono legal programme of the Thomson Reuters Foundation
The eight annual TrustLaw Awards ceremony held on September 26, 2018, in New York City, highlighted the ground-breaking pro bono work undertaken by lawyers around the world. The winner of the prestigious Lawyer of the Year Award was BB2C lawyer Rick Longton of the firm Covington & Burling, LLP.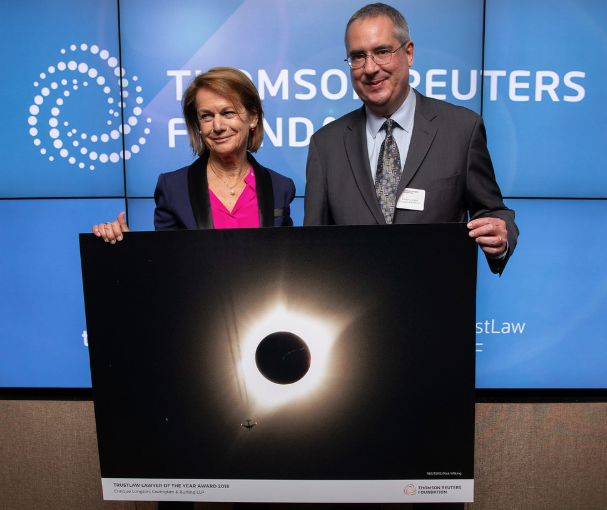 BB2C in the Media
Senior Design Students build sustainable pump for Cambodia—and deliver it
"In designing their pump, the team aimed to meet or exceed performance characteristics advertised for KickStart's Super MoneyMaker, but they declined to have one sent to them so that it would not influence their own design. The team consulted with BB2C's engineers in Cambodia to learn about locally available material and received additional advice from groups in Wisconsin, Washington, Australia, and the United Kingdom. The final design called for a single-cylinder pump, an innovation which differs from the double-cylinder Super MoneyMaker and cuts down on materials, reducing both cost and weight." University of Illinois at Urbana-Champaign. Alumni Magazine
In-rural-Cambodia-water-pumps-help-farmers-help-themselves
BB2C's founder, Paula Shirk, was featured in an interview which was reposted by the Christian Science Monitor (original interview conducted by dowser.org, May, 2011).
Read the article here: Christian Science Monitor: "In rural Cambodia, water pumps help farmers help themselves"
Brooklyn's Extraordinary Women
"By listening to Cambodian farmers themselves – and drawing on her own rural childhood in the Pennsylvania Dutch country – Paula concluded that access to water was the key to their generating income and moving from subsistence farming to commercial agriculture. Her strong belief is that entrepreneurship is the model for positive, sustainable change. She applied her talent to turn Brooklyn Bridge to Cambodia into a supplier of inexpensive, user-friendly, low-tech pumps to help Cambodian farmers irrigate their crops. She located the manufacturer of these devices, arranged for shipping, and developed a distribution system. From her Brooklyn apartment, alongside friends and neighbors that she has inspired and recruited to her cause, Paula continues to strengthen BB2C's reach."
-brooklynda.org, March 2010
Push for gift delivery to Cambodian kids
"A Brooklyn school group's gift of soccer balls and jerseys for an orphanage in Cambodia has been caught up in a bureaucratic nightmare of red tape and corruption."
-New York Daily News, December 2007 & January 2008
Read the articles here: Daily News: "Soccer To Them!"  and  Daily News: "Soccer Effort Finally Scores"
The Big Thing in Philanthropy these days
is all about doing more with less—and doing it yourself
"I don't think of this as a mom-and-pop organization, I think we can keep growing. It's only been two years and look how much we've done."
-Paula Shirk, Founder of BB2C, featured in Mainstream Medici by Joan Oleck and Laura Collins-Hughes November/December 2007 edition of "Contribute New York."
Read the article here: Contribute New York
Finding Entrepreneurial DNA in Cambodia
"Later that week I met Kim, a Cambodian woman who is the local project manager for Brooklyn Bridge to Cambodia. BB2C imports treadle pumps that enable small-scale farmers to water their fields efficiently and grow high cash crops during the dry season. On the way to visit farmers using these pumps, Kim chatted to us in great English and gave us insights into life in Cambodia. She also told us about her work with BB2C, laughing as she explained that often when she first comes to a village they call her "the cheating NGO". This is because she goes to villages to explain the value of buying a product that will enable farmers to increase their income, not to bring free snacks and give things away."
-Kim, BB2C's program manager, co-featured in a blog written by Jana Svedova, co-founder of Synergy Social Ventures.
Check the latest articles of our Press kit:
BB2C Arranges Photoshoot in Kampot
USAID invites BB2C/Agri-Smart to Present at the Asia Agricultural Innovation Summit
Patent Approved For One Chamber Pump
BB2C/Agri-Smart is accepted into New York University Capstone Program – Team Coming To Cambodia
Staff Biographies and Historical Information
A Groundbreaking Seeder For Women
Latest version of Rice Seeder is Market Ready
Pioneering Rice Planting Technology In Cambodia
BB2C/Agri-Smart Featured in Phnom Penh Post 
BB2C/Agri Smart ASEAN Pitch
BB2C attended the ASEAN (Association of Southeast Asian Nations) Impact Challenge competition in Kuala Lumpur, Malaysia. The Challenge attracted the best social innovators in Asia. BB2C's rice technology came in among the top 10 out of 240 teams.